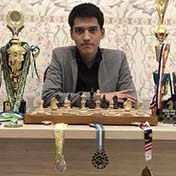 FM Daler Vakhidov
Rate: $25 per hour
Language: English
Hi there. I am FIDE Master Vakhidov Daler. I am from Famous Vakhidov's family. I have been working in the field of Chess for 12 years and have been teaching for 2 years. I have more than 50 satisfied students. Currently, I'm studying at Webster University.
Playing experience:
Participated successfully in a lot of international tournaments and achieved high places.
-1st place in Asian Amateur Chess Championship in Brunei Darussalam(2015)
-1st place in Asian Chess Championship Under 15 (2016)
-Participated in World Chess Olympiad Under 16 (India, Ahmedabad 2017) and got 4th place.
-1st place in Penang Open Under 16(Malaysia 2016)
-3rd place in Western Asian Chess Championship Under 18(Tashkent 2018)
-1st place in Almaty Open Under 18 (Kazakhstan 2017)
Defeated and drawn with GMs and IMs in international tournaments (particularly, GM Svidler Peter, IM Pascua Haridas, GM Samy Shoker, GM Fier Alexander, GM Neelotpal Das, GM Fominyh Alexander, IM Cuhendi, Sean Windhand, IM Lioe Dede, IMCech Pavel, IM Meftahi Houssem, IM Aronyak Ghosh, WGM Zhukova Natalia, WGM Alexandra Obolentseva)
Teaching experience:
I offer an innovative training program to help you learn fast and become a better player. My success comes from combining a carefully designed dynamic powerful chess program for different skill levels from beginner to advanced with my extensive experience teaching and playing chess. The result is measured by your increased performance in tournaments and a higher rating in FIDE and USCF.
Most of my students were beginners looking for someone to guide their way through copious amounts of chess material
available out there. Besides beginners, I've been successfully teaching 1600-1900 elo strength players and children.
My best students improved their rating over 100 points in a 6-12 months period.