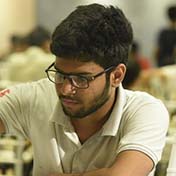 FM Suyog Wagh
Rate: $25 per hour
Language: English
I am FM Suyog Wagh and I have been playing chess since I was about 11 Years Old. Also, I have been Common Wealth Under-20 Gold Medalist. I have gathered huge information regarding every aspect of chess in my 10 Years Journey and know quite a lot of chess tricks and how to improve your chess skills. Also because of this, I have been able to get official certification from FIDE for My FM title. Now to share what I have learned I have started as a chess coach on lichess to help all of you to improve your game.
Playing experience
Common Wealth Under-20 Gold
2nd Place National U-20
Ranked 11th In Abu-Dhabi International Blitz Open
Various Fide Rating Chess Tournament Winner
2 Times National Chess Champion and 1 Time National Bronze Medalist in Under-20 Categories.
Teaching experience
I have been teaching chess for more than 3 years from now. In these years I have produced many Fide rated players as well as improved many players rating by almost more than 500+ points. I have students from 7 years all the way to 49 years of age. Because of this experience, I know exactly where the player should focus his attention to improve his game.
Best skills
I do believe with proper guidance and proper training anyone can achieve amazing results in chess. One just has to know what he has to work on and where his weakness lies and what are his strength is.
1. Analysis
2. Calculation
3. Weakness Identification
4. Opening Repertoire.
Teaching methodology
I won't waste your time with the hard puzzles which all coaches give. During the lesson we will pay attention to the analysis of student's games in order to find out typical mistakes and avoid them in the future, also we'll study classical famous games, will work on the opening repertoire as well as positional skills and calculation abilities. Also after the class is over will give you a schedule to work on at home so even if we are not having a session you can work at home. Just like regular gym chess needs regular practice!